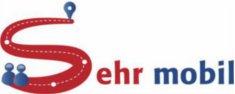 Mobility platform for the Siegen-Wittgenstein district Each generation has its own mobility needs. But across all generations, unrestricted individual mobility is crucial for social exchange and participation. Maintaining mobility also has a significant impact on the quality of life of older people. In the model region of Siegen-Wittgenstein, we will develop an Internet-based, generation-compatible mobility platform. This is intended to draw attention to mobility and service offers and to the willingness to help on site. At the same time, the system enables intergenerational interaction by building a community of older people and people of younger generations.
The system consists of:of a mobile application,
a shared internet presence and
a station (via television or computer) in the user's living room.
This can result in seamless mobility chains that sustainably expand the action areas of the 60+ generation. This will be used nationwide later on.
The focus is on the people
In order for the mobility platform to be accepted by its future users, representatives of the 60+ generations will be involved in the development process. Therefore we are looking for people who would like to contribute to the requirements of their peers within the scope of this project.
What does the mobility platform offer you?
First, you can search for existing transport options. The search takes into account public transport, taxis and private individuals offering car-sharing. At the same time you can make your requests or offers for a ride public. You will be shown carpooling offers or requests based on your current position. The offers or requests displayed are selected by yourself or on the basis of the degree of overlap of the routes. The operation of the system allows you to enter by voice as well as via a keyboard. When specifying the route, it is possible to enter an exact address, as is searching within an industry. In addition to transport, the system will offer you other services.
Contact
Sehr Mobil
contact person:
Frau Carina Werthmann
Projektbüro Sehr Mobil beim
DRK-Kreisverband Siegen-Wittgenstein e.V.
Bismarckstraße 68 | 57076 Siegen
Tel.: 0271 / 33716-0 | Fax: 0271 / 33716-66
E-Mail: info@sehr-mobil.de