TOPIC – The Online Platform For Informal Caregivers
TOPIC – The Online Platform For Informal Caregivers
Motivation
When someone becomes beyond recovery with diseases like Alzheimer's, dementia or sclerosis, the caretaking is often done by his or her relatives. Due to demographic change, it is likely that the proportion of elderly informal caregivers will rise in the future. For many of the (mostly unskilled) caregivers domestic care quickly becomes more challenging than a full-time job and goes along with physical, mental and emotional stress.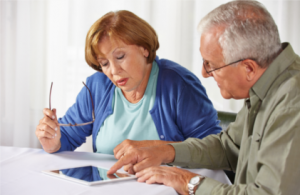 Objectives and approach
The European project TOPIC aims to obtain a profound understanding of the daily life and care in families or households by conducting a qualitative, social science research and the Siegen "Living Lab"-approach. Thereby, it is possible to learn from the elderly informal caregivers and thus recognize the specific requirements they need to be really supported. Subsequently, a computer-based information- and communication platform will be developed that supports caregivers in their daily lives and especially in their familiar home environment. The platform (comparable to a website or a homepage) will approximately consist of different areas and service offerings such as a "learning corner", in which one can inform oneself about the respective disease (such as dementia, Alzheimer and apoplectic strokes) or a corner in which one can learn about important care practices. A main area of the platform will provide the quick and easy exchange of experiences with other informal caregivers that find themselves in a similar situation.
Thereby, traditional ways of communication are going to be expanded and no longer limited to using just the telephone or internet services. Furthermore, the new platform will be much better adjusted to the relevant target- respectively age-group, the social environment and activities which often dramatically change within the time of taking care of a relative.
TOPIC is a project of the research field "New Media for Supporting the Social Partaking of Elderly People" ('Inclusive Aging')
Project duration:
August 2013 – August 2016
Förderung:
TOPIC ist ein Forschungsprojekt des EU-Ambient Assisted Living Joint Programme (AAL JP): "ICT-based Solutions for (Self-)Management of Daily Life Activities of Older Adults at Home", gefördert durch die Europäische Kommission und das Bundesministerium für Bildung und Forschung (BMBF)
---
Contacts:
Sociology

– Research assistant –

Computer Science and Commun. Engineering

– Research assistant –

Bastian Weiß B.A.

Media culture

– Student –

Magdalena Walczuch B.Sc.

Information Systems

– Student –

Information Systems


– Student –

This email address is being protected from spambots. You need JavaScript enabled to view it.

This email address is being protected from spambots. You need JavaScript enabled to view it.

This email address is being protected from spambots. You need JavaScript enabled to view it.

This email address is being protected from spambots. You need JavaScript enabled to view it.

This email address is being protected from spambots. You need JavaScript enabled to view it.

Universität Siegen
Kohlbettstraße 15, romm: US-E 115
57072 Siegen

Tel.: +49 (0) 271/ 740 – 2424
Fax: +49 (0) 271/ 740 – 3384

Universität Siegen
Kohlbettstraße 15, room: US-E 117
57072 Siegen

Tel.: +49 (0) 271/ 740-3474

Universität Siegen Kohlbettstraße 15 57072 Siegen
Universität Siegen Kohlbettstraße 15 57072 Siegen
Universität Siegen Kohlbettstraße 15 57072 Siegen
---
Research partners:
| | |
| --- | --- |
| Â  | Universität Siegen, Deutschland, Team Prof. Dr. Volker Wulf |
| Â  | Technische Universität Wien, Österreich, Team Prof. Dr. Hilda Tellioglu (Koordination) |
| Â  | Technische Universität Troyes, Frankreich, Team Prof. Dr. Myriam Lewkowicz |
| Â  | Â ilogs mobile software GmbH, Klagenfurt, Österreich |
| | SOZIAL GLOBAL Aktiengesellschaft, Wien, Österreich |
| Â  | SOPHIA Franken GmbH & Co KG, Bamberg, Deutschland |
| | AVINOTEC GmbH, Siegen, Deutschland |
| Â  | E-Seniors, Paris, Frankreich |
| Â  | Webinage, Neufchatel-Hardelot, Frankreich |
Cooperating partner:
| | |
| --- | --- |
| | Diakonie Pflege und Rehabiliation gGmbH, Siegen |
---
websites:
Website TOPIC project consortium
University of Siegen -TOPIC project
Flyers for interested informal caregivers.
You also find us on Facebook and Twitter.